---
The American Tool Works
---


American Pacemaker Lathe - 1943


This is a 16 by 78 inch toolroom lathe. The power clutch is engaged by a lever near the headstock or the one on the apron (These are not yet installed on this machine). It has a ball bearing taper attachment. It has the power train for a relieving attachment, and you might be able to see the short shaft sticking out just above the feed gear box which is connected to the relieving attachment. The large and the small levers on the front of the headstock change the spindle speed. The large one has six positions. The small lever just above it changes through three speed ranges. This gives a total of 18 spindle speeds. (Nine and 21 speeds were also available.) A small lever on the feed speed gear box selects between lead screw and power feed. There is a lever on the apron to change lead screw direction . One of the feed clutches in the apron is a friction cone and the other is a splined disk.


This has a twelve inch chuck mounted and the spindle nose is a D1-6. According to the General Electric tag that was still on this machine, the original motor was a 25 cps induction motor. The dealer tag that you can see here on the front says that this machine was originally sold by a dealer in Baltimore, Maryland. The lathe was made in 1943.

---
A short history of
The American Tool Works

American Tool Works was the successor to Lodge, Davis & Co. started in 1876. [

My note: In one advertisement that I have found, Lodge, Davis & Co. claims to be the 'Successors to Lodge, Barker & Co."

] It then became Lodge and Davis Machine Tool Co. In 1892 Lodge sold his interest to Thomas Egan of Fay and Egan Co. and it became Davis and Egan. In 1898 it was bought by Franklin Alter and A. B. Voories and named American Tool Works. [

My note: According to a patent application that I read, ATW was incorporated in West Virginia.

] It was purchased in 1966 by Curtis Manufacturing Co. of Cleveland but it kept its name. In 1968 it was purchased by Wyle Laboratories. In 1973 it was sold to Fischer Industries and it 1980 it was sold to White Consolidated Industries, Cleveland. (L.B.)



The following was supplied by Annette Stewart at Bourn-Koch:

"
White Consolidated Industries owned The Bullard Co., American Tool Works and White-Sundstrand Machine Tool. All of these divisions were consolidated in 1987 in one plant. When Electrolux merged with White Consolidated Industries, the decision was made that the focus would only be on the appliance industry. White Consolidated Industries sold the company and it eventually became DeVlieg Bullard Services Group. In September 2004, Bourn & Koch bought the assets of DeVlieg Bullard Services Group."

This lathe was designed, I am told, by William G. Hoelscher, engineer at American Tool Works. I cannot find out any information about this man, other then that Linda Bailey tells me that he is listed in the Cleveland city directory as the chief engineer at American Tool Works at about the time this lathe was made. Eleven of the twelve patents declared on this lathe are attributed to William G. Hoelscher. Albert E. Robinson is given as a co-inventor on some of the patents. Patent 2,173,557 is for the ball bearing taper attachment. It was granted September 19, 1939. The patent has very good drawings and a description of this attachment. The patent states,"William G. Hoelscher, Norwood, Ohio, assignor to the American Tool Works Company, Cincinnati, Ohio, an Ohio Corporation."

Other patents are: 1,926,996 for the rapid traverse (not an option on this particular lathe.) 1,926,998 for the lubrication of the headstock transmission. 1,966,409 for the tailstock.

Same lathe as shown above with some background removed.
---
Below is a picture of the American Tool Works shaper that is at the Cincinnati Museum. This shaper was restored by
volunteers at the Cincinnati Museum.
According to the original bill of sale and shipping papers for this shaper, it was purchased by the University of Cincinnati Physics Department in 1905. Photo courtesy ot The Cincinnati Museum Center.
Also at the Cincinnati Museum Center is this Lodge and Davis lathe shown below: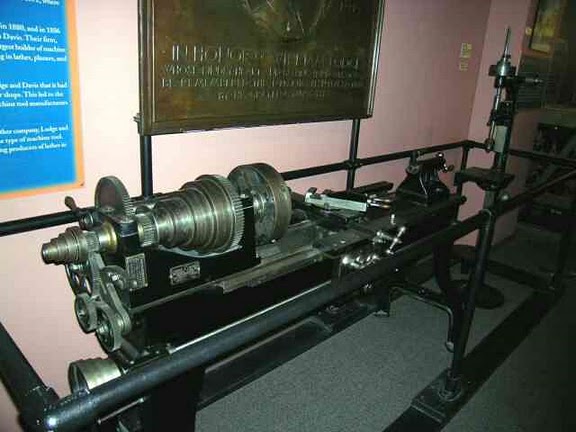 The first Lodge and Davis lathes, or some parts of them, were (maybe?) built by Richard Knight LeBlond . Below is an old advertisement for a Lodge and Davis lathe. Compare the drawing below to the picture above.


See some more lathes and other machines by American.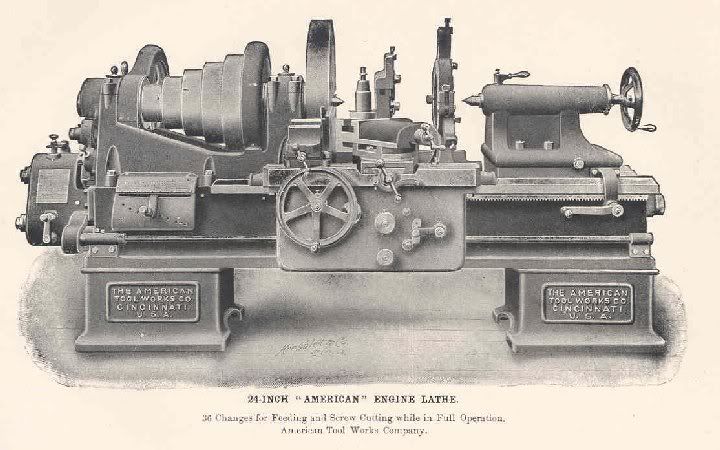 If you want to look at an older American Tool Works lathe,
go to
Stan's Project Page
where you can see a beautiful
old flat-belt lathe that he has restored.

See a 'Larktide' made in about 1912, that has been
restored at Greg's ATW page and also some other links
and a few great downloads in .pdf format of ATW parts
and operational manuals. Don't miss this!

There is some information
http://www.lathes.co.uk
about Pacemaker lathes
.

The present OEM and owner of the American Tool Works name is
Bourn and Koch . They have drawings and manuals going back
many years for ATW.

---
The history of ATW was courtesy of:
Linda Bailey
Reference Librarian
Cincinnati Historical Society Library
Cincinnati Museum Center
1301 Western Ave.
Cincinnati, OH 45203
(513)287-7094
Additional information supplied by:
Annette Stewart
Sales Manager
Bourn & Koch Replacement Parts Division
10100 Forest Hills Road
Rockford, IL 61115
815-282-4100 ext. 2205
800-728-8602
---